Discussion Starter
·
#1
·
I know that I have been a rather vocal critic of the OEM BT setup, but I got a decent deal on a complete setup from the classifieds (thanks Lanny), and finally had time to install it. Of course, placement in the C5 A6 is not as easy, as the area behind the glovebox is a bit tight, especially if you have a C5 4.2, S6, or RS6 that has the memory module for tilt/telescope steering wheel. I wanted to install the bluetooth module in that location, so I inverted the steering module within the bracket to give me another inch or so of clearance. Inverting the steering module into the bracket required that I modify the mounting tabs of the module to eliminate the wedge-shaped edges of the tabs.
I then used that heavy-duty velcro (plastic on both sides, like they use for toll-booth transponders) to mount the BT module to the memory module. The result was a very nice spot to tuck away the module, not under the seat, and even enough room for the BT antenna! Here is a picture of the area behind my glovebox: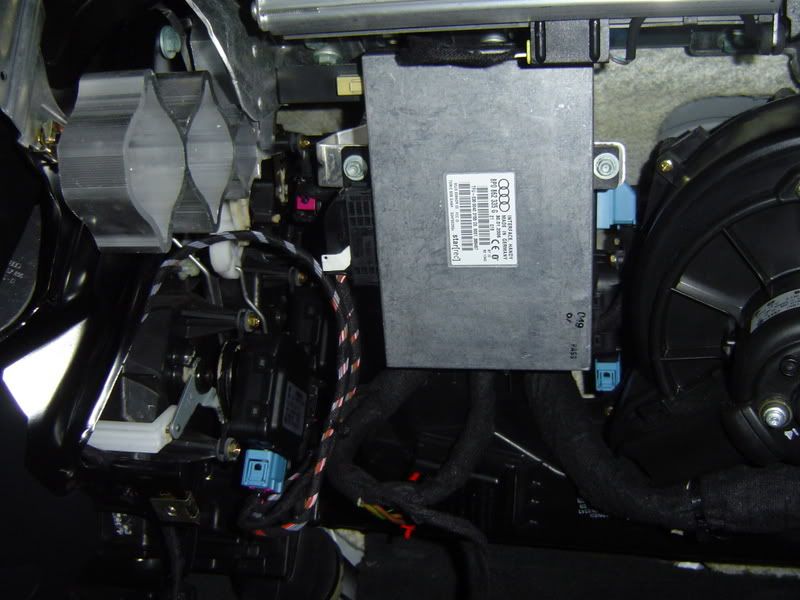 Anyway, I am happy with the setup, but even after some tweaking of the microphone gains etc. the sound quality is not as good as what I had before. I attribute that to the placement of the hidden OEM microphone, not the setup itself. Paired up my Motorola e815 (I know, I should get a new BT phone), and everything paired up very nicely.
Full details, and my feedback on the likes and dislikes can be found here:
http://www.audiworld.com/tech/elec163.shtml
Thanks to NSX_JR for his very useful PDFs on his download page, TeddyBGame for pictures on the forum of his custom harness, AudiA4B6US for his research on Audi pins, and Proxus for his thread on VAG COM codes.