Discussion Starter
·
#1
·
I had a ton of emails about this package and finally I have more info to post.
New Multimedia kit is a complete solution for video playback on your RNS-E.
Included in the package:
:arrow:
NEW Multimedia Interface
(with full RNS-E controll)
:arrow:
NEW Multimedia player
- PAL/NTSC
- Read : DVD(single i Double-Layer), (S)VCD/CD(-R/RW) / JPG Picture-CD , VCD/MVCD/DVD-R z MP3 i Video.
- Play : mp3 / mp4 / mpeg4 Video / WMA / DivX 3.11 / 4.02 / 5.02 / 5.03 / 5.05 / DivX Pro / XviD / BivX / 3ivX / OGM / .srt
-
HIGH-SPEED USB to connect Memory sticks (pen drives) or up to 80Gb HDD
- output DOLBY-DIGITAL i DTS5.1-canal
- Built in equalizer
- Last Position Memory
- VIDEO/AUDIO output - input (Cinch)
- Power 12 Volt
- Size: 171 x 171 x 44 mm
- ANTI SHOCK and ANTISKIP -system
Video-In-Motion coding is required for enabling video during drive.
With this kit I offer 20% discount for VIM coding -
MORE INFO
Price:
$450 + $15 shipping
================================================
Short installation instruction:
Multimedia interface - wire color coding:
loose wires need to be connected to RNS-E adapater
RED - 12V (connect to pin D15)
BLACK - GROUND (connect to pin D12)
YELLOW - Can-H (connect to pin D9)
BLUE - CAN-L (connect to pin D10)
Big gray connector - connect to back of your NAV
Multimedia Player - wire color coding:
RED - 12V
YELLOW - 12V
you can connect red+yellow together
BLACK - GROUND
BLUE - not used
This is power source for Media player.
I used Glovebox light power (before the switch)
[siteimg:c7118b1324]647[/siteimg:c7118b1324]
those are glovebox cuts.
The best way is to use Dremel saw but if you don't have proper tools, you can drill set of inline holes and remove necessary plastic area.
[siteimg:c7118b1324]649[/siteimg:c7118b1324]
I used existing hole to run USB and extera input wires to lower part of the glovebox
[siteimg:c7118b1324]650[/siteimg:c7118b1324]
and this is final look
[siteimg:c7118b1324]651[/siteimg:c7118b1324]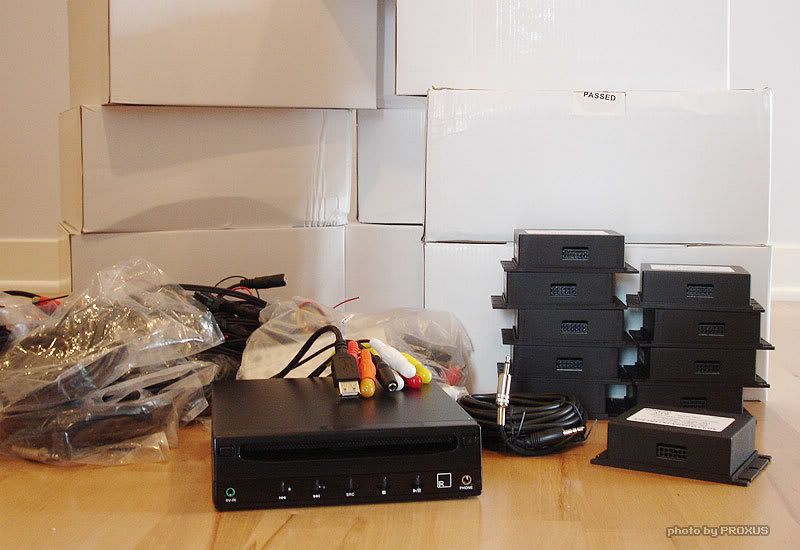 [/url]