Discussion Starter
·
#1
·
Objectives:
- Set up a media library PC using the RNS-E for all communication with the driver and allowing acces to any media file stored on devices that are connected to the PC via USB.
- Use PC to connect to OBD and display vehicle data fully integrated into RNS-E MMI user interface
So far completed:
- Mini-PC (Aopen Pandora) connected to RNS-E TV-in via VGA to RGBS converter (still requires Dietz AV adapter to enable TV on RNS-E)
Pending:
- Install mini Windows XP containing only the absolutely required components to play audio/video, minimizing boot time and RAM/HD requirements
- Setup front end to simplify in-car use
- Integrate media library PC into CAN-Bus to allow control via RNS-E and output data on Driver Information System (DIS)
- Replace Dietz AV adapter with custom application enabling TV on RNS-E by sending certain CAN message via CANUSB adapter.
- Replace Dietz Video in Motion adapter by custom application utilizing CANUSB adapter instead
- Create plug and play harness to connect media library PC to RNS-E
____________________________________________________________
And this is how everything began...
____________________________________________________________
If you are a geek, what would you do if your computer produces a screen like this: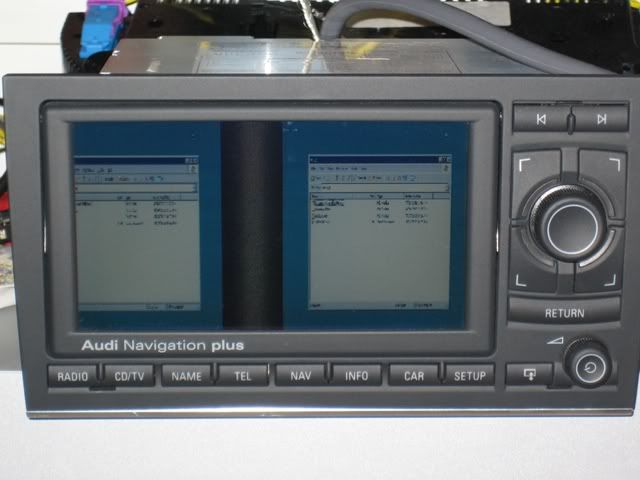 Windows XP SP2, ATI Mobility Radeon, PowerStrip are the tools installed right now. I can get a clear 400x234 picture when I control the PC remotely (so the card does support the resolution) but I'm lost at how to tweak the frequencies to make the picture show up on the RNS-E.
In case you know what I'm talking about, here are the PowerStrip settings:
PowerStrip timing parameters:
800x600=800,48,128,80,600,1,4,23,32950,304
Generic timing details for 800x600:
HFP=48 HSW=128 HBP=80 kHz=31 VFP=1 VSW=4 VBP=23 Hz=50
VESA detailed timing details:
PClk=32.95 H.Active=800 H.Blank=256 H.Offset=32 HSW=128 V.Active=600 V.Blank=28 V.Offset=1 VSW=4
Linux modeline parameters:
"800x600" 32.950 800 848 976 1056 600 601 605 628 +hsync +vsync
800x600 is definitely to much but I can't get the picture to not roll with any other resolution.
Any hint would be appreciated,
Dirk